How to find a model/client for a virtual photoshoot?
Sometimes it is just not enough to check the hashtags and DM a person you would like to shoot virtually. You can check the model agencies or ask your friends if they'd be interested in a virtual photo shoot but most of the times that's not enough and people can say no even though you are a talented photographer. Virtual photography is a mystery for many people. We are here to help!

Despite the fact that Shutter Studio has existed for more than two years and thousands of photographers shoot online, this format is still new and mysterious for many people. Why? Well, most probably because the idea of a remote mobile photo shoot is something that doesn't sound like a professional photo shoot to the majority of people.
So many things we can do remotely today: we work remotely, we do yoga classes online, you can take online classes and today you can have a virtual photo shoot too.

We see that some photographers are experiencing difficulties and cannot find a model, many do not understand what virtual shoot is and refuse it.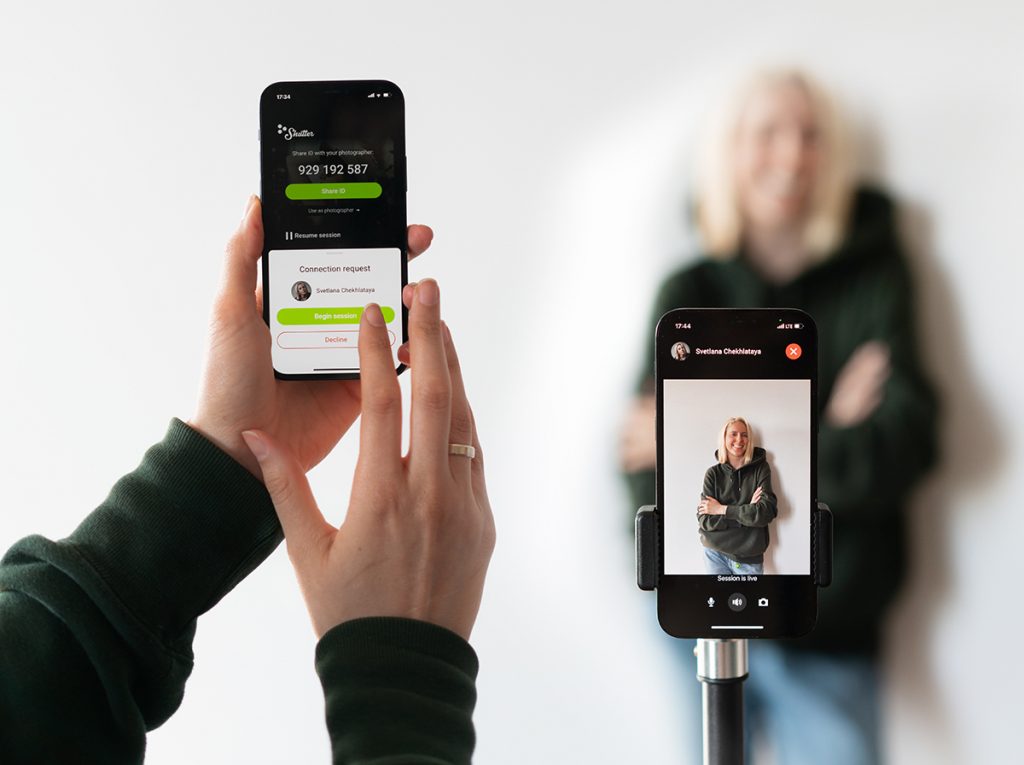 We are all used to the idea that a professional photo shoot must include a photographer with a big camera. Some of us don't take seriously our mobile phones and what great photos can be taken with a professional assistance. How amazing is it? Just to connect with any photographer you like through your phone and have your shoot done remotely by a professional. So, how to help people to see that virtual photo shoot might be a great opportunity to refresh their photos for social media or maybe just to have fun and get new nice pictures?

How to built the trust and attract attention to interest people in taking part in online shooting?

We have got a few ideas for you:


1.Behind the scenes
The more you behind the scenes videos and photos you share with your audience the more trust you gain. It helps your followers to learn more about the process of a remote shoots. As soon as they see it's simple and fun, it will be easier for them to choose this shooting format.


2. Testimonials
Collect and share the testimonials from your models and clients. How did they like the photo shoot, what pictures did you take and so on. It will add more emotional appeal for your work.


3. Q&A
It is always good to know what people think about the idea you have for them. For instance, if you have an Instagram account, you can ask your followers what do they think about virtual photography? You might find that they would love to try but they don't understand how it works or they think that their phone is not good enough.

That is your opportunity to answer all of their questions and show that it is easier than they think.

You can use stories for that or you can write a post with common questions and answers + you will be able to answer the questions in the comments. Communication is the key!)


4. Mood board
Catch their attention with your idea. It can be a set of 3 or 5 or any number of pictures. The most important thing that you can illustrate the idea and concept of the shoot and find people for this specific idea of yours.


5. A story
It would be amazing to have a few shoots to show with a story about it. How did the shoot go? It might be good to add some details because so many people think that they need to have a tripod (nope!)) or a brand new phone (also no). It can be a great combo: a post with photos, a few words about it and a testimonial from your model.


There are more ways to built trust and we just shared jus a few ideas which could help you in the beginning.
We hope it was helpful and you will have an amazing virtual photo shoot soon!